ARTENSO presents a new series of intersecting conversations on cultural mediation (Québec, Switzerland, France)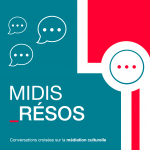 Time for mediation
The practice of cultural mediation has always been inscribed in diverse temporalities that shape its reason for being: the time for design, the time for experience, for trust, and so on. The temporality of activities and their degree of permanence are axes that compose this field of practice (Jacob Bélanger, 2009), along with constant sources of tension. Short duration, long duration, the urgency of acting and engagement over the long term – these are notions that were constantly tested during the last year, with the pandemic. How do we combine the complex rhythms of mediation with populations in media spaces, locked down and distanced? How are the relational and the temporal experienced? What does time for mediation mean now?
Conversations by relay
To broaden perspectives and decentre points of view, this series is offered as a conversation by relay in various francophone networks. Eva Quintas, director of ARTENSO, kicks things off by inviting a Montreal figure who she feels is notable in current cultural mediation practice to talk about key questions of time and engagement. Daniel Fiset, of the PHI Foundation, in his turn, identifies the Swiss collective Microsillons, which then passes the torch to French artist and researcher Marie Preston.
WEDNESDAY, MARCH 24, 2021, NOON–1:00 PM
The time for engagement
Eva Quintas (ARTENSO) encounters Daniel Fiset (PHI Foundation, Montréal)
WEDNESDAY, APRIL 21, 2021, noon–1:00 pm
Critical mediation and engaged pedagogy
Daniel Fiset encounters Marianne Guarino-Huet and Olivier Desvoignes (Microsillons, Geneva)
WEDNESDAY, MAY 26, 2021, noon–1:00 pm
The notions of commonality and of collaboration in cultural mediation
Microsillons (Geneva) encounters Marie Preston (Paris)
WEDNESDAY, September 22, 2021, noon–1:00 pm
Presence and co-creation
Marie Preston (Paris) encounters Sylvie Cotton (Montréal)
To attend Midis_Résos #4 on Wednesday, September 22, free of charge and open to all, please fill out this form.